ABOUT CTM
Corporate Travel Management (CTM) is a Travel Management Company (TMC), yet our responsiveness and flexibility provide you with the kind of attention that might be more commonly associated with a traditional travel agency. In today's world of impersonal, "bottom-line" travel management, we believe our service culture separates us from the competition.
Our History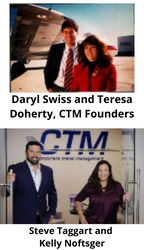 CTM began operations in 1990 and our goal has always been to provide client companies with comprehensive, high-quality travel services while also maximizing the value of their travel budgets.
Reinforcing this commitment to quality & value is the fact that CTM does not require long-term service agreements. We feel that the industry practice of "locking in" a client to a long-term contract tends to encourage mediocre service. Of course, we understand varying corporate cultures and are happy to construct a tailored contract to suit your company's specific needs.
In short, we are easy to do business with - we have proven it since 1990!




Our Mission